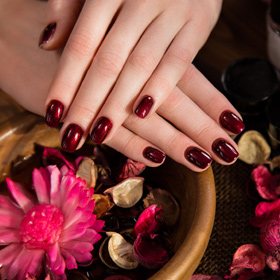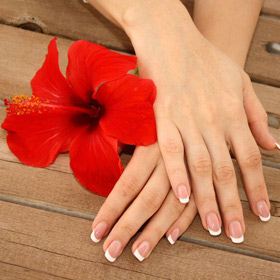 Express Manicure (15 minutes)
$12
A quick manicure to give you a polished look so you can conquer the world. Includes nail trimming and shaping, cuticle detailing , and polish of your choice.
Regular Manicure (20 minutes)
$15
A relaxing manicure that includes all the benefits of the express manicure plus a relaxing hand massage and hot towel wrap.
Organic Exfoliating Manicure (25 minutes)
$20
A warm gentle sugar scrub is massaged to exfoliate your skin, revealing smooth and radiant hands. You can choose from 10 different scents.
Gel Nail Polish Colors
The new producrs apply like polish and wear flawlessly for 14 days of high gloss shine
- Odor Free - Durable - No damage to nail bed - Resistant to chipping & cracking.
Gel Manicure (30 minutes)
$25
Gel Manicure with soak-off (35 minutes)
$28
Gel polish change hands (20 minutes)
$17
Gel polish change hands with soak-off (25 minutes)
$20
French Gel Manicure (30 minutes)
$30
French Gel with soak-off (33 minutes)
$33
French Gel Polish Change (20 minutes)
$20
French Gel Polish Change with soak-off (25 minutes)
$23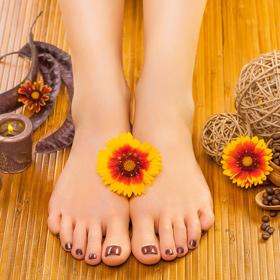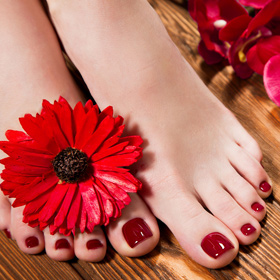 Express Pedicure (25 minutes)
$25
Short on time? This pedicure will have your feet look-ing good in no time! Includes a relaxing citrus soak, toenails, are trimmed and shaped and cuticle are de-tailed, finished off with your favorite shade.
Smoothing Pedicure (35 minutes)
$32
The essential pedicure for your soles and toes. Soak your feet in Herbal Mineral Bath while your nails are perfectly trimmed and shaped, your cuticle and dead skin are safely removed. Next, exfoliate with Liquid Body Lufra and replenished with Body Smoother. Restore skin with Sole Solution treatment.
JT Nature Deluxe (40 minutes)
$42
JT pedicure is all about you. Dip your feet in Herbal Mineral Bath before your nails are trimmed and shaped, cuticle are detailed. Next, exfoliate with Liquid Body Lufra and revitalize the legs with Icedancer Gel plus essential oil, wrapped in hot towels. Then, relieve your blood circula-tion within your legs with hot rocks. Lastly, restore skin with Sole Solution treatment and moisturize with Baobab Butter.
Organic Lavender & Mint Spa Pedicure (40 minutes)
$42
Calming, moisturizing and relaxing aroma-therapeutic Lavender & Mint foot soak.
Stress relieving Lavender leg & foot scrub.
Calming Lavender & Mint leg & foot mask.
10 minutes hot stone.
Moisturize with Lavender & Mint cream.
Organic Lemongrass & Green Tea (40 minutes)
$42
Start your experience with a refreshing Lemongrass Green Tea foot soak.
Your dry skin will be exfoliated with a Lemongrass in-fused sugar scrub and your legs and feet will be given a luxurious massage with a Lemongrass infused cream. You will feel rejuvenated as the hot stone massage helps increase circulation and helps reduce stress.
Organic Mandarin & Mango (40 minutes)
$42
Reduce sun damage.
Antioxidant-rich and anti-inflammatory.
Slows down signs of aging.
Clear blemishes, soothes, sensitive skin.
Moisturizes and smooth tough, dry skin.
Promotes healthy and rejuvenated skin.
Organic Milk, Honey & White Chocolate (40 minutes)
$42
An organic Softening and Hydrating trearment.
Milk and Honey as a nutrient-rich humectant to promote moisture retention in the skin.
Fighting against free radicals and damage from the sun and environmental pollutants to help damaged cells in regenerating.
Organic White Radiance (40 minutes)
$42
A brightening treatment for radiant and luminous skin. Exclusive Pearl Moon Complex helps to fade dark spots, lighten age sports and create a more even skin tone.
Contains Ginseng to stimulate circulation, Volcanic Silt to draw out impurities, and Rice Water and Milk to fade and reduce uneven pigmentation.
Organic Spearmint Vanilla (40 minutes)
$42
Stimulate your pores with Spearmint Sugar Scrub to exfoliate and re-freshen your skin. Follow by a Spear-mint & Vanilla Moisture Mask to calm your nerves. Finish with a Vanilla Moisture cream with Spearmint essential oil to relax your tired muscles and leave your skin radiantly refreshed
Organic Jasmine Coconut (40 minutes)
$42
The Jasmine Coconut Skin Smoothing Rice Scrub formulated for dry and sensitive skin. The scrub uses tiny rice beads to gently remove excess dead skin and drit while small granules polish the skin.
Organic Pitaya Dragon Fruit (40 minutes)
$42
Tighten and nourisk skin with Pitaya Dragon Fruit. Com-monly know as dragon fruit, the bright green and red pitaya fruit is packed full of vitamin minerals, active-anti-oxidants and powerful nutrient compounds while revi-talizing skin with essential nourishment, high-levels of polysaccharides give a tightening.
Jellicious Pedicure(40 minutes)
$42
Turn an ordinary pedicure into a luxurious treatment. Gentle exfoliating Jelly Scrubs are massaged to melt away stress and impurities. A pedicure to remenber!
Hot Wax Pedicure (45 minutes)
$42
A perfect pedicure to dry, cracked heels. All the bene-fits of the basic pedicure plus a dip in a warm paraffin wax. Paraffin wax not only helps heal dry skin but also helps soothe away arthritis aches and joint ten-sions.
Gentlemen Pedicure (50 minutes)
$50
The ultimate pampering far the gentlemen. Get an overhaul for your feet with our deep clean pedicure designed for men. Specials Callus eliminator and Liquid Body Lufra is used to exfoliate away dead skin cells & banish dry, rough skin. Sweet dream!
Luxury Pedicure (60 minutes)
$60
Immerse yourself in the ultimate relaxing pedi-cure
Bathe feet in Herbal Mineral Bath.
Exfoliate with Liquid Body Lufra and body bar.
Soften dry, calloused skin and soothers tired, achy feet with Firewalker foot cream.
Revitalized the legs with Icedancer gel mix with essen-tial oil.
Hot stone application.
Warm towel wrap.
Restore skin with Sole Solution.
Moisturize with Baobab Butter treatment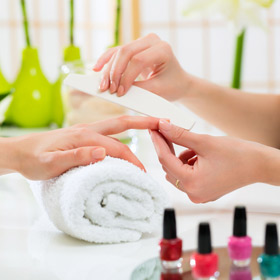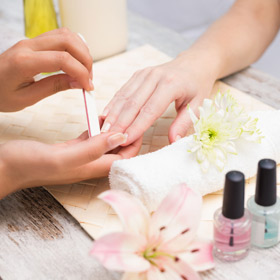 Full Set / Fill-Ins
White Tips
$35 / $18+
- Gel Polish with service extra $10
- Additional charge for various shapes and extra length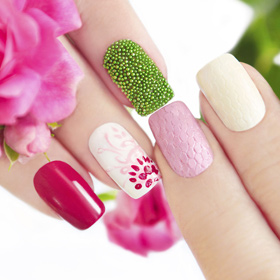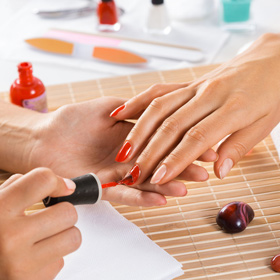 Essential Oil (10 minutes)
$15
French polish change hand
$10
French polish change feet
$15
Professional Callus Treatment
$5
Gel Polish Application
$15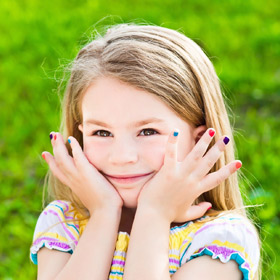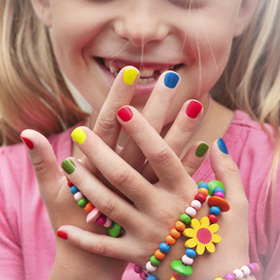 (10 years ola and under)
Manicure (2 nails design)
$12
Pedicure (2 toes design)
$20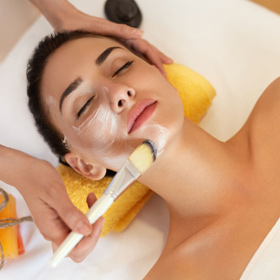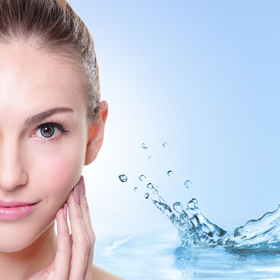 Refreshing Facial (30 minutes)
$30
- Simply fabulous! Bi-weekly treatment. Provides gentle exfoliation and revive skin
Refreshing Mask (30 minutes)
$30
- Simply fabulous! Bi-weekly treatment. Provides gentle exfoliation and reduce excess oil production. Leaving skin softer and smoother.
Refreshing Lift Facial (35 minutes)
$40
- Instantly Spectacular! Instantly lefts and tightens the skin to give you a smoother, tighter, more youthful look.
AgeLOC Facial (45 minutes)
$50
- AgeLOC is a proprietary blend thar targets aging at its source. The result-skin that immediately feels refreshed, hydrated, and incredibly soft and clean.
DeLux Facial (60 minutes)
$70
- A combination of our AgeLOC Facial and Refreshing Facial. The Delux Facial include new AgeLOC ingredient blend that helps slow the signs of ageing at their source.
* OFFER EYELASH EXTENSION